That feeling of dread when guests come over uninvited to our homes is all too familiar to most of us. For farmers, unprecedented rainfall is accompanied by that same feeling of dread.
Let it be said that when Pitbull sings "Let it rain over me", he's not speaking for the agricultural industry.

Weather can make or break a farmer's produce. It is the most important and the most erratic variable in crop health and farm monitoring which helps to understand sowing time, irrigation cycles, and treatment plans.  Weather information is needed throughout the entire crop cycle - from sowing to harvesting.  

Weather forecasting has been the main focus of agri-tech companies to help farmers plan efficiently, maximize their yield and minimize losses. Providing access to accurate weather forecasts can aid farmers in making small and frequent decisions about their crops, and the cumulative financial impact of those decisions can be significant.

Now that we have established that weather is important, can we track and monitor it?

The reality
There has been a lot of progress in agriculture technology, making farm activities predictable and controllable, however, weather continues to have a mind of its own. The reality is we can't control it, and the best we can do is just monitor and predict the weather and adjust our practices accordingly.
Most of the weather information which is consumed in India through news or other public outlets comes from centralized sources. It is likely that the weather data delivered is coming from the weather station at the closest airport and the resolution is district level. This kind of information is not useful to a farmer, he can simply look up at the sky and predict the same without running any kind of algorithm out there.

What he needs is on-ground data, how the weather is going to be in his field.  This is where the necessity of sensors and farm-specific updates comes in.

Current Solutions

There are multiple solutions available in the market, providing real-time and forecast weather updates. These solutions majorly fall under 2 broad buckets.

Weather Stations

Weather stations are hardware set-ups installed in the farms, comprising multiple sensors, and deliver weather updates through the company's app. As they are installed on the farms, the information captured is farm-specific and can measure weather parameters like temperature, humidity, wind speed, and more.

However, there is a catch. These weather stations are pretty damn expensive. In India, typical weather stations start from Rs 20,000 and there is an additional cost for the software. These solutions are hardware and CAPEX heavy. It's a difficult business to scale, as the adoption rate is low - about 86% of Indian farmers fall under small and marginal buckets, hindering their ability to buy expensive farm hardware.
If agri-tech cos wants to serve millions of farmers and provide weather updates, then the "API-first" approach is the answer.

Weather APIs

Weather APIs provide historical, real-time, and weather forecast data, delivered via APIs. This approach is ideally suited for use cases that need large volumes of weather data or need to access weather data in an automated way. When it comes to scalability, an API-first approach is the only answer.
Multiple factors need to be considered before finalizing an API  such as pricing, resolutions, ease of use and access, and data sources.

Now, this is where it gets interesting, and Kawa is here to help.

Not your usual weather API

A weather API is only as good as the data and infrastructure behind it. Over multiple discussions with clients, we realized that farmers need better weather predictions to make timely decisions and plan their activities accordingly.
Most weather solutions in the market are either too costly, or they don't provide weather data on a hyperlocal level, rendering themselves pointless to agri-tech companies that aim to deliver weather updates to farmers.  

Well, thou shalt suffer no more. Kawa's new weather API is the culmination of our efforts to replace expensive weather stations and inaccurate weather APIs. The API combines and processes data from multiple sources ranging from ground sensors to weather satellites in orbit to deliver accurate, timely, and hyperlocal weather insights.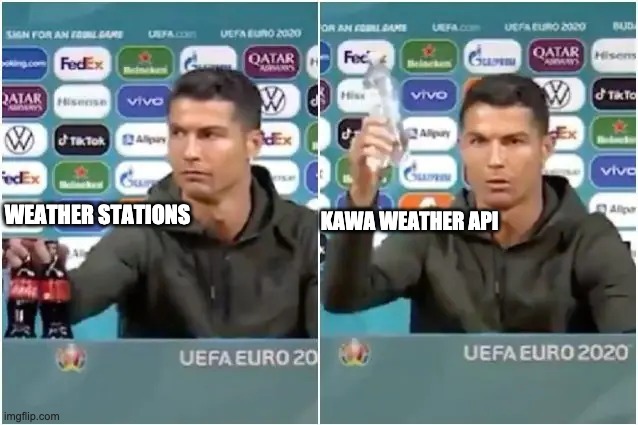 Agri-tech companies are integrating our weather API in their workflow and will able to provide a multitude of weather-related services to their farmers ranging from advisory to crop protection.

When it comes to advisory, our users can deliver hyperlocal weather updates ranging from 15 min to 15-day forecasts, to their customer base. They can also help farmers to plan their irrigation cycle, by combining our weather data with soil moisture levels of the farms.

On the crop protection side, pest and disease prediction models can be developed using weather forecast data from our API. Wind-speed and atmospheric factors can also be monitored to aid farmers in protecting their crops as well as plan the spraying schedule.

At Kawa space, we don't want anyone to be left behind. To enable agri-tech companies of all sizes to use our weather services, we have adopted a pay-as-you-go model, removing the CAPEX dependency and allowing companies to scale and deliver hyperlocal weather updates to millions of farmers.


What's next for us?

We have built a geospatial technological infrastructure for agritech and agriculture larger companies, so they can focus on what matters the most - providing valuable insights to farmers and making sure that they progress. Additionally, we have released geospatial APIs, which focus on all aspects of farming - boundary detection, crop growth and health, soil, and weather. We have curated the necessary infrastructure to enable companies to serve farmers at scale.

There's more to it. We have several other agricultural offerings in the pipeline. Currently, we are focussing on crop classification and nutritional mapping, which we plan to release in the coming few quarters.
I would love to connect! Pick a spot at https://bit.ly/3wwYU2e and we can discuss about our APIs or how Kanye is the sneaker GOD.
Written by - Raghav Chopra
Raghav works as associate - strategy at Kawa Space. He likes to read books, collect sneakers, tweet random thoughts and watch NBA. He aspires to launch his t-shirt brand this year.